ORGANIC HIP TEES + MORE, INSPIRING YOU TO CREATE TRADITIONS AND CELEBRATE EVERY DAY LIKE A HOLIDAY
LOVE LIKE THIS - BABY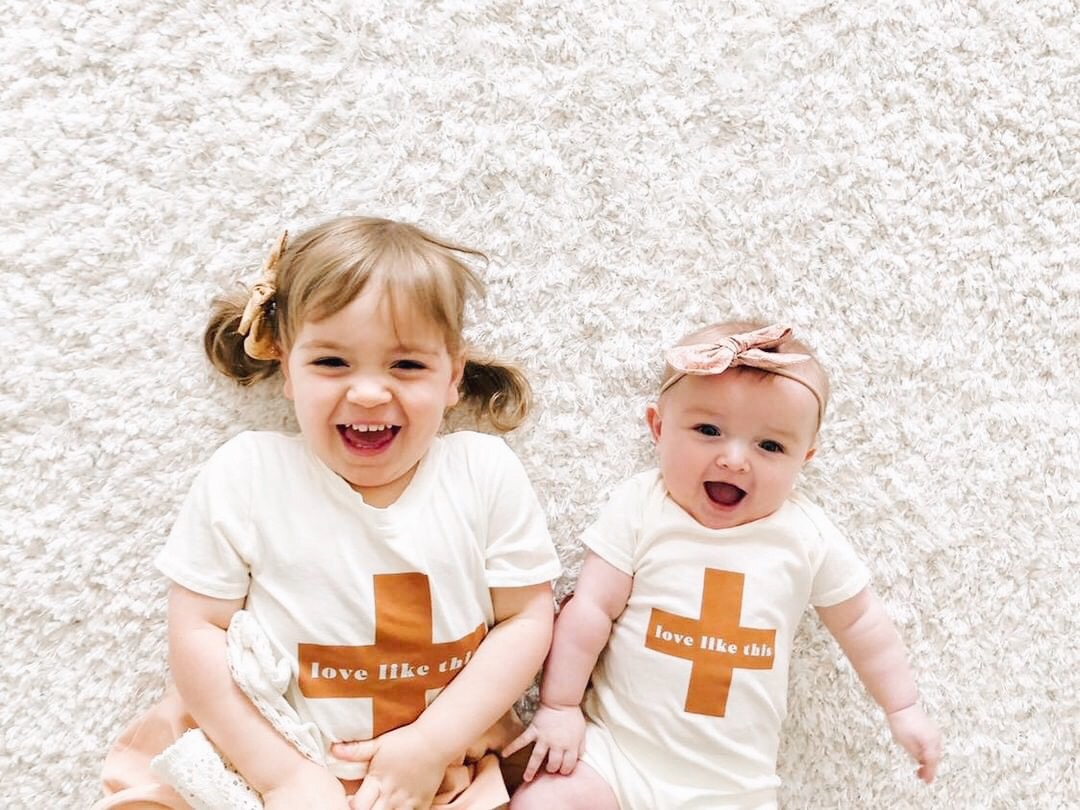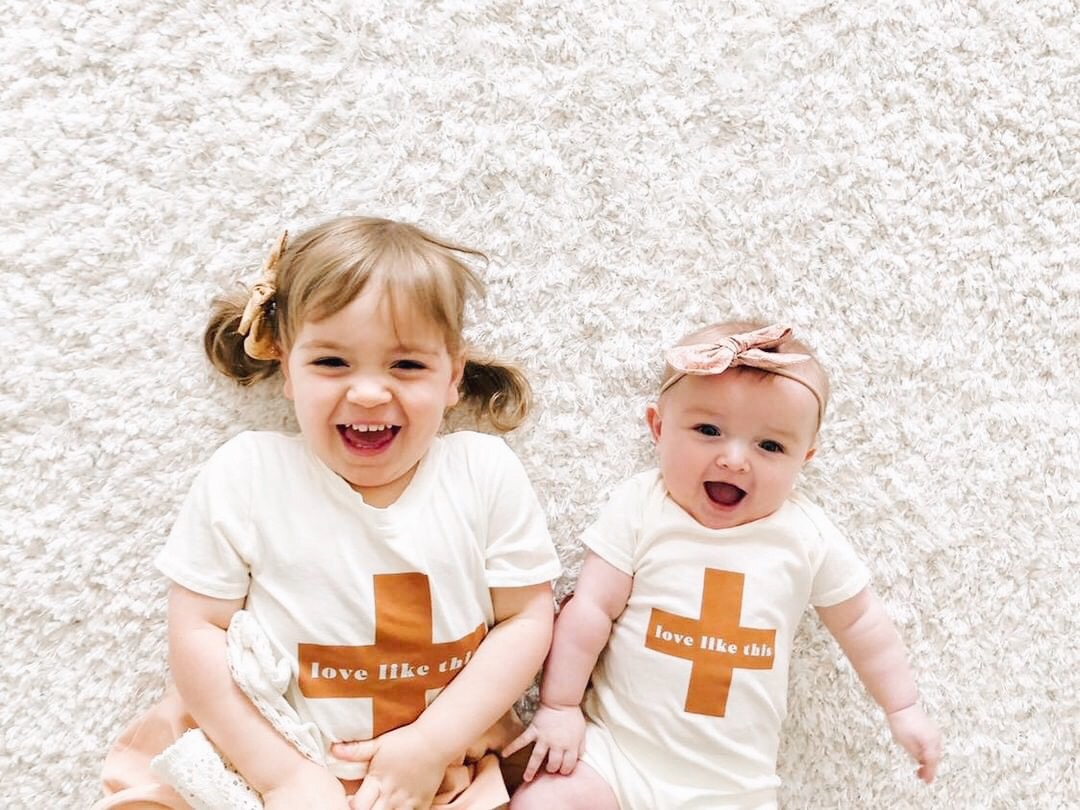 sold out
LOVE LIKE THIS - BABY
READY TO SHIP! THESE ITEMS ARE DISCOUNTED BECAUSE THERE ARE MINOR IMPERFECTIONS. AS A SUSTAINABLE COMPANY, WE WANT TO LIMIT WASTE, SO WE ARE OFFERING THEM AT SIGNIFICANTLY DISCOUNTED PRICES TO ENSURE WE CAN CLEAR INVENTORY WHILE ALSO OFFERING YOU A DISCOUNT FOR THE ERRORS. THERE MAY BE SLIGHT SLANTING OF THE DESIGN (BUT DUE TO THE CURVATURE OF OUR BODY THEY WILL LIKELY LAY STRAIGHTER ONCE THE SHIRT IS ON YOU OR YOUR CHILD). THERE MAY ALSO BE SOME SPOTS FROM INK, BUT NOTHING I WOULDN'T PUT MY OWN CHILDREN IN OR WEAR MYSELF. THANK YOU FOR HELPING US MINIMIZE WASTE!
🧡Ever since we started this company I've wanted to shine a light on Jesus.
I've wanted to be able to share our Faith organically and easily, but I'll be the first to admit that talking about my Faith out loud does not always come easily for me.
it never has; I wasn't born with the natural voice to teach and lead.
but I was born a vessel.
and so He is in me. and that's all the strength I need.
I pray one day it gets easier for me to share my testimony openly, but right now the Lord uses me through writing, through Bible art, through my tattoos, and through my clothes to share Him. To tell His story.

Inspired by our women's tee, we hope this tee for your littles can do just the same. A design that maybe helps spark conversation for someone who isn't a natural, for someone who needs an organic invitation for someone to say, "hey! what's that mean?"
And so Lauren Daigle's "Love Like This" is our inspiration for this new tee that'll drop in the next 3 weeks.

The lyrics say,
What have I done to deserve love like this?
I cannot earn what You so freely give.
What have I done to deserve love like this?

We pray that every lady and every child who wears our tees is given an opportunity to be a vessel for God's glory, and we pray you're given the chance to invite someone to the cross, to show them a Love Like This. 🧡
I'm hoping to see lots of ladies pairing this with a long maxi skirt for Easter Sunday and some little boys wearing a blazer or suspenders over it. yea? 🤟🏼
These tees are the same as all previous onesies. If your child is between 2 sizes, we always suggest sizing up so they can have extended wear!
p.s. "love like this" is not trademarked. i looked into it prior to coming up with the design. "love like Jesus" is for anyone concerned. ;)
This tee is in an off white creamish color and the cross is a almond brown!
Free Shipping on all orders
Tees are made in Los Angeles, CA, USA from 100% Organic Cotton.

Hand printed with baby safe ink.

Tagless, garment dyed and pre-shrunk.

Cold wash only, with like colors, and hang dry for longer wear.

There may be small threads at seams due to the small batch handmade nature of our tees.

Suggest washing with like colors for first wash.

***Due to the small batch and hand dyed nature of these tees, variations in color wear may be apparent and shirts may fade with washing.

All apparel is garment dyed by hand and sent through a wash / pre shrink cycle. It is then dried prior to being sent to the printers. During this process there may be slight pilling of the materials because they are rubbing against other items. If this occurs, please gently remove the pilled fabric from your garment and wash inside out. We will always do our best to remove any pilling prior to shipment.

Due to our small batch fabric sourcing in Los Angeles, to ensure we can continue bringing limited edition holiday apparel each month, there may be slight variations in material based on vendor availability which will also cause items to dye differently from batch to batch. We strive to always bring you the best fabrics, home grown in the US.

We unfortunately do not accept returns or exchanges; however, if there is damage, please email us at orders@theeverco.co and we can address each order individually.